Diversity Seems to Fade as One Moves up the Corporate Ladder
Part of a common workplace mindset is seeing a problem, addressing the problem, and moving on, often prematurely.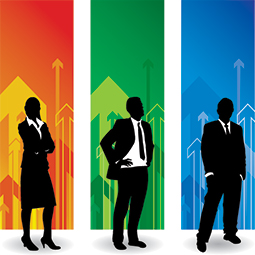 This is how diversity has been addressed in corporate America. There have been great strides with diversifying the workplace, however, as glossy corporate stock photos show mixes of races and genders, this is not a solution.
Once one sees the higher end of the corporate ladder, the rich diversity fades into a lot of white men.
According to the Alliance for Board Diversity, caucasian men filled more than 70 percent of the seats not he boards of Fortune 500 companies.
"We've been talking about diversity of 50 years, yet the progress in the form of representation has not changed very much," said Tyronne Stoudemire, the senior diversity consultant at Mercer Mercer is a global human resource and financial services consulting firm. Stoudemire continues to say, "We admit the issue, we talk about the issue, but the work that's behind it— people aren't willing to roll their sleeves up and really get involved. We're unconsciously incompetent."
"You've got to mix it up," he said. "Organizations are diverse, but the diversity stays at the bottom. You're not promoting; you're not advancing."
Frank Dobbin, a professor of sociology at Harvard University says, "We interview a lot of HR managers and top managers at firms and we ask them how they're doing on diversity, and they say,'Oh, good, 40 percent of our staff is female or minority,'" Dobbin says. "Then we ask how promotion up the ranks is going, and they'll almost uniformly say, 'terrible.'"
Dobbin highlighted two typical approaches to increasing diversity: first is to teach managers about their own bias. Second, is to control managers by implementing striker rules regarding hiring and promotions. Dobbin mentioned that managers prefer to solve problems on their own rather than having to go off by specific guidelines.
Although, from 1996 to now, more of a business case has been made for diversity. Companies have made changes after realizing that diversity is not only the right thing to do from an ethical standpoint, but also that it is good for business as it harbors different ideas from different angles, as well as diverse approaches to solving problems.
Clearly, corporate America is stumbling in regards to promoting minorities into top-tier leadership roles. Dobbin mentions a few more effective ways of promoting diversity up the ranks:
The formation of a task force.
Task forces, according to Dobbins, work very well because they give the job to the managers. Dobbin says "If I'm the CEO and I say I need six department heads to form a diversity task force that will meet once a month for a year and I want to see some results, there will be results."
Mentoring.
Dobbin says that paring up senior executives with management spirants of all races and genders works because the senior people will ant their younger counterparts to succeed. This breaks down the barriers that exist between people of different races or genders, as well as people of different levels within the company.
Evidence has shown and is continuing to show that we have not figured out our diversity issue in corporate America. It does not mean that it is not hugely important, because diverse workplaces are more productive and more innovated as well as putting importance on reflecting the clients being served.
"People are looking for this big, enormous, aha moment," Stoudemire says. "But it really is about treating people fairly with dignity and respect; the basic things our mother and father taught us."